Marshalltown Tools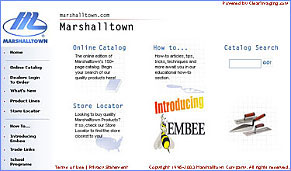 Marshalltown Company is one of the world's largest manufacturers of masonry and related hand tools.
These tools are intended for the true professional who works in his or her particular trade all day, every day.
His/her tools have to stand up to heavy, daily use, and MARSHALLTOWN's tools do just that and more!
Click here to view Showroom »
Thousand Oaks, CA
Simi Valley, CA
Santa Clarita, CA
Oxnard, CA
Santa Monica, CA
Ventura, CA
Calabasas, CA
Los Angeles, CA
San Fernando Valley, CA
Santa Barbara, CA
Agoura, CA
Camarillo, CA