Brickform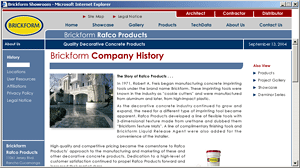 In 1971, Robert A. Freis began manufacturing concrete imprinting tools under the brand name Brickform. These imprinting tools were known in the industry as "cookie cutters" and were manufactured from aluminum and later, from high-impact plastic.
Rafco Products is dedicated to the highest level of customer service. Our competent team is always ready to provide samples, technical information, and process your orders with speed and efficiency.
Today, Rafco Products has worldwide distribution, with Headquaters in Southern California.
Click here to view Showroom »
Thousand Oaks, CA
Simi Valley, CA
Santa Clarita, CA
Oxnard, CA
Santa Monica, CA
Ventura, CA
Calabasas, CA
Los Angeles, CA
San Fernando Valley, CA
Santa Barbara, CA
Agoura, CA
Camarillo, CA